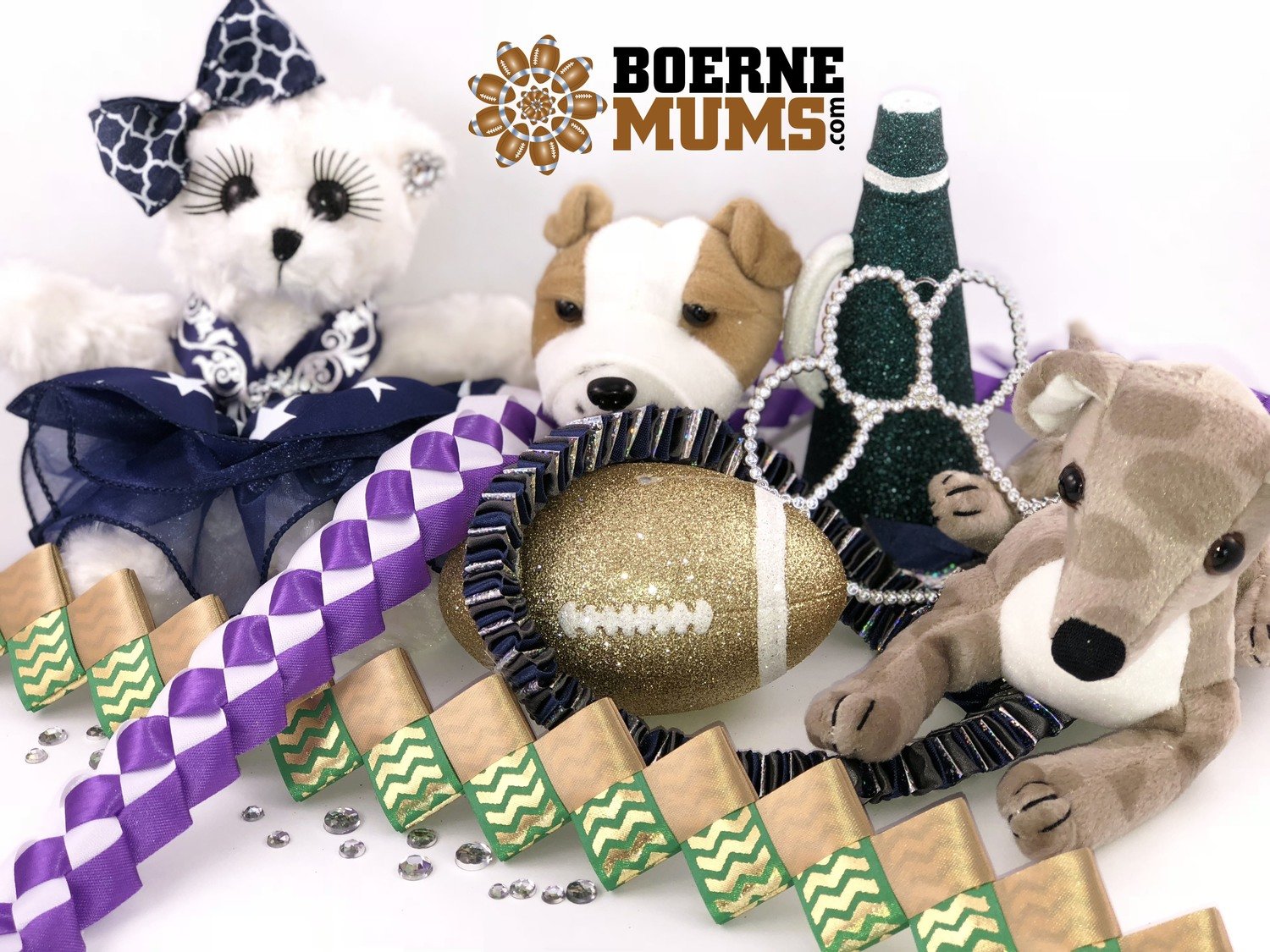 ADD-ONs & UPGRADES for Homecoming mums & garters
ADD-ON
Add additional decorations or braids to your mum or garter to make it even MORE AWESOME!
Product Details
Tell your story: Add Character & personality to your Mum or Garter with add-ons & upgrades.
Add Character & Personality to your Homecoming Mum or Garter with these add-ons & upgrades.
Add extra premium braids, plush bears & mascots, sport & spirit items and more! Most premium braids include bling & bow decorations.
THESE
ARE NOT
SOLD SEPARATELY & are only included WITH mum/garter purchase.
These add on items and upgrades are IN ADDITION to what may already be included on the base style you selected.
For example, if the style you selected already includes a feather boa and you select another feather boa here, your mum will have TWO feather boas. (and yes, you should add a boa) 🙂
Add a mini bluetooth speaker! Tiny & in disguise. Works with most bluetooth enabled devices to stream YOUR music. Has a speakerphone. (quantities limited)(micro port USB cable required for charging, not included)
Extra Bling Package: Most styles include a certain amount of bling & shiny things. Adding this package will give you blinged trinkets and lots of extra sparkle & rhinestones on your mum OR chromed out studs & "man" bling on your garter.
Chandelle Feather Boas are full 65-80 gram Boas. (Typical craft store boas are only 40 grams) (quantities & colors limited)
Luxurious Turkey Feather Boas are a stunning 150 grams with lots of beautiful flat tipped feathers. They are very full and elegant. (available as an upgrade) ALL Boas are individually steamed to make them soft & fluffy.(quantities & colors limited)
The 6-7" bears are highly recommended & look great when dressed & accessorized. These are a must have item & even look great on garters! (C'mon, the girls LOVE it)
Some Plush Bears, Mascots & others are typically added to/around the flower unless otherwise noted. Other items are added as they look & perform best.

If you are purchasing more than one mum/garter AND "add-on" items, add your first mum/garter to your bag followed by the add-on items for the first mum/garter. Then add your second mum/garter to the bag followed by the add-on items for the second mum/garter. And so on. You can also provide instructions with each product &/or at checkout.
*Please see the photos for samples of add on items.

*supply of many items is limited
*Base price of $0 (no items selected) will be adjusted with item selections.
Save this product for later